Chukwuwezam Obanor (24) and Olumide Ogunlana (25) have taken strides to change the face of Nigerian education.  The two men graduated from the Electrical Electronics Engineering department at Unilag. Together, they started and now run PrepClass.
Founded in 2013, the idea behind PrepClass is to provide a hub for tutors and students to connect – under a controlled and well regulated system. So why did these two guys start PrepClass? 
" We wanted to make an impact in the education sector in Nigeria. When the Jamb announced plans to move exams to computer based tests we saw an opportunity to create a test prep platform that would help students across Nigeria prepare for local exams and have the educational resources at their fingertips. However as time went on we realised it would be much more impactful on students learning for us to connect them with physical tutors"
Intrigued, by the passion that drove these men, we knew we had to get a deeper insight into them.  Chukwuwezam describes himself as "a strategy games enthusiast with a passion for people and an insatiable zest for experimenting with viable ideas and building profitable businesses"
When he isn't working, Olumide says "I love to discuss business models for several ventures (online and offline) and play strategy computer games like Age of Mythology."
As you read this interview, we hope you're as inspired by 'Wezam and Olumide as we were.
****
Where did you meet?
We met during our diploma year at the University of Lagos, we were both entering for electrical electronics engineering in the university of Lagos. We weren't really friends back then, just acquaintances who knew each other's names. I don't even think we really liked each other back then in our diplomas days. But during the course of our study we got closer and worked on a few projects together. We had similar work ethics and it set the tone for us to work together in the future.
Fresh out of Unilag, Chukwuwezam, what did you get up to?
I worked as a Google Africa Intern and a senior online marketing specialist at Rocket Internet's Jumia Nigeria, where I gained relevant skills needed to leverage on the Internet to create profitable ventures.
Olumide, what did you do after graduation? 
Shortly after graduation, I traveled to Europe for a 3-week festival where I got inspired to launch my own company after gaining 6 months of work experience as a business developer for StartUp Partners Africa (now defunct sunglasses.com.ng and glamour.com.ng.
Tell us about PrepClass and its operations
We connect clients with professional tutors and we are very particular about the process being seamless and easy – such that the tutors we connect are able to deliver the level of quality that we promise our clients. To that effect, each of our tutors is physically screened. We have a huge pool of about 16,000 tutors, whose profiles we vet; based on their expertise, years of experience, qualifications and location, we invite them for a physical interview during which they take written tests on the subject. We also conduct personality tests and do a teaching practice session. Each tutor provides us with 2 guarantors and with personal references that can certify their good will and character.
Once all the information required about the tutor is ascertained and we carry out a due diligence process, then we assign that tutor when we have a client request that matches his or her specifications. The bulk of our operation is focused on filtering out the best tutors from the masses who just want a job and this is why our clients trust us. We invest very heavily in making sure they get them very best.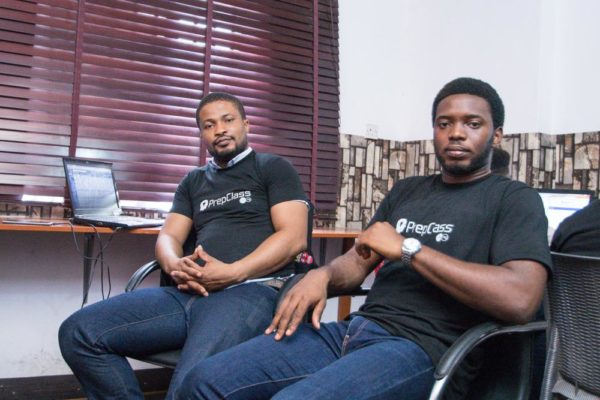 What are your individual roles in the running of PrepClass?
'Wezam bears the CEO title and oversees business development, partnerships, PR & communications, finances and company growth. I handle marketing, product development, and new projects.
Those are quite distinct roles. How would you describe your working relationship?
Very interesting! We argue a lot about different things; so it's a series of hot debates punctuated by brief celebrations of successes and new milestones crossed.
Our work relationship is very animated. We always seem to be arguing over something. Our friends sometimes wonder how we are even partners at all, but in the real sense of it, it's actually what makes us have a very strong working relationship. Neither of us is afraid to air his opinions and as such there are always different perspectives to issues and we can make smart decisions. We share the same goal which is the success of our companies so beneath the various debates there's only to single focus to ensure that we make the best decisions we can.
Chukwuwezam, did the fact that your family has a group of schools give you a leg up in starting Prep Class
No, it didn't give me a leg up at all. What it did do, however, was give me a certain perspective about the education industry. That was helpful and it made me interested in education from an early age but it didn't provide any particular leverage or measurable advantage when we started out.
How did you fund the startup phase of the business?
At the beginning we bootstrapped seriously. Both Olumide and I had worked for a while, so we had some savings which together probably amounted to about N700,000 or so. We were young and naïve, but we were passionate and we just wanted to take that plunge.
So we started by using Olumide's house as our office. We convinced some friends to help us build a working product even though we didn't have money to pay them immediately. We survived for the next 6 months burning away on our N700,000 hoping as soon as our product is ready we would be making millions of Naira.
Hahaha…it certainly didn't happen that way; but sometime in February 2014, we won our first competition which was the Techcabal Battlefield. It shot us into the limelight and gave us much needed funds to survive for a significant amount of time.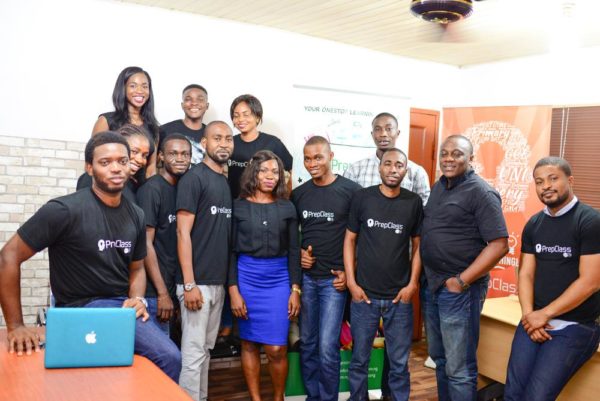 What doesn't break you makes you stronger, I guess. Please share some of the challenging things you faced in the early days.
With Prepclass specifically, we went through a phase of pivoting that forced us to redefine what impact means to us and the value we want to offer to clients. Pivoting is basically the process of changing the core business of a company.For us that was quite challenging because it wasn't like we were going into something that had been extensively tested, but we knew it would be more value and greater impact for our clients so we did. Raising funds was also a challenge because we spoke with quite number of "potential" investors, got a lot of rejections, but we kept on. We met some great guys who saw what we were building and actually had money to invest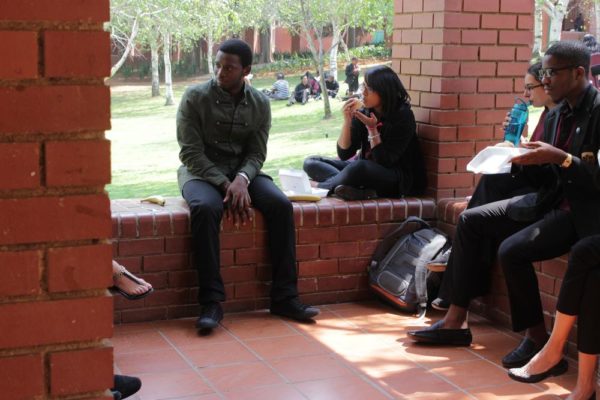 As entrepreneurs,  the things we have found challenging are more subtle things – like knowing what to do or staying motivated to push further.
I think those are things that successful entrepreneurs fail to prepare the upcoming ones for. There is no manual or guide to entrepreneurship and sometimes you may find yourself completely clueless as to how to push forward or you wake up in the middle of the night in cold sweat wondering if some important decision you just made was the right one. It's impossible to tell; so it's like a rollercoaster, sometimes you're up sometimes you're down.
As young entrepreneurs in Nigeria, how have you been able to overcome some of these difficulties?
I think as entrepreneurs, whether in Nigeria or outside Nigeria, to overcome difficulties you need courage, loads of courage – the courage to continue even when you are scared or uncertain. Also we are very smart about our decision making process. I think our training as engineers helps us reduce the complexities to numbers and follow what the data available is telling us. Numbers don't lie, so we are highly data reliant.
One other thing that has really helped in both our business and personal lives is our network of friends, most of whom are also entrepreneurs doing big things. Some have introduced us to investors we would never have had access to and help us get through many difficulties.
Another thing of invaluable importance to us is the quality of mentors, advisors and stakeholders we have. Individuals who we are always able to run to both for help and for advice. One of our mentors is Mrs Folashade Adefisayo, who was the Executive director of the Corona trust council for 14 years. She brings her wealth of experience to the table. Not just as an authority in education in Nigeria, but also as a mother figure who understands how women think about their children's success and this has been very helpful for us in putting things in perspective.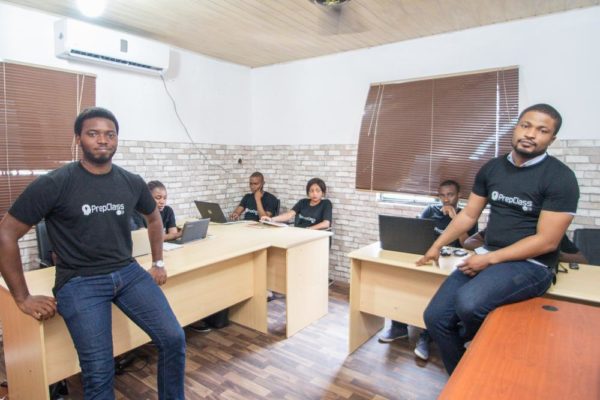 What would you describe as PrepClass's most impressive achievement till date?
We have won various competitions and the mentions we have received from the likes of Fast Company and Forbes have been impressive. However, our most impressive achievement till date is the number clients we have been able to connect with credible tutors and the number tutors whose faces we have put smiles on by providing them with the opportunity to do what they love at some of the most rewarding salaries the market has to offer.
In total, in Lagos only, Prepclass has served over 500 clients and our tutors have completed over 20,000 billable hours of tutoring. We have worked with over 400 tutors and affected more than 570 tutees. We have success stories of kids in just about any class level you can think about. There are those who went from being poor performers to super stars and those who thought they would fail an exam, only to get a Prepclass tutor and eventually come out with high grades.
Who are your biggest competitors in the industry?
The really interesting thing about the industry right now is that we are just about the first people in the market that have put up a concerted effort to create something big out of the industry. There are a lot of other players who work with 5 – 10 tutors, but from our research there's no organizationwho works with up to even 60 tutors. For us, beyond dominating the market, what we really want to do is create value for the client.
How do you manage to stay ahead of the curve?
I think we see things very differently from the way any competitor in the market does, and so we approach things differently. Our ambitions and dreams are huge, as such our approach to solving problems is very innovative, we aren't just thinking how do we solve this problem right now, we ask will our solution be valid if all our clients were to have a similar problem. Whenever we have issues, we always look for solutions that would still be relevant when our client base is 10 times, 100 times that number.
Our greatest weapon is the quality of our service and our focus on client satisfaction. We know our clients want value and professionalism so do everything possible to make sure they always get that and we ensure that we get the best tutor and we make them happy.
Where do you see PrepClass fitting into the current educational structure we have in Nigeria?
Millions of parents in Nigeria already hire tutors or private lesson teachers for their kids or themselves and they have been doing so for at least 2 decades. Prepclass makes that process easier, faster and guarantees that clients get far better tutors. In the near future, we see ourselves being able to recruit for schools and take the trouble of recruiting the best teachers from school administrators, also helping school hiring special tutors for kids with unique requirements over short time spans.
Beyond that, we want to disrupt education in Nigeria, we feel the sector is ripe for disruption and we are in a unique position to do that in that we have direct contact with both the tutors and students, by equipping our tutors with educational content and devices that are not available to any other players in the education space we intend to carve a niche for ourselves
Looking back, what are some things you wish you had done differently with respect to organization, starting up and the operations of PrepClass?
If nothing else, I wish we changed our business model a bit earlier.
What are your plans for PrepClass in the next 5 years?
Our dream for Prepclass is to see it become the biggest education brand in Africa. In the next 5 years we want Prepclass to be a pan-African brand across at least 7 countries in Africa with thousands of satisfied clients and happily engaged tutors who are doing what they love, which is imparting knowledge to people around them.
Culled from BellaNaija.com